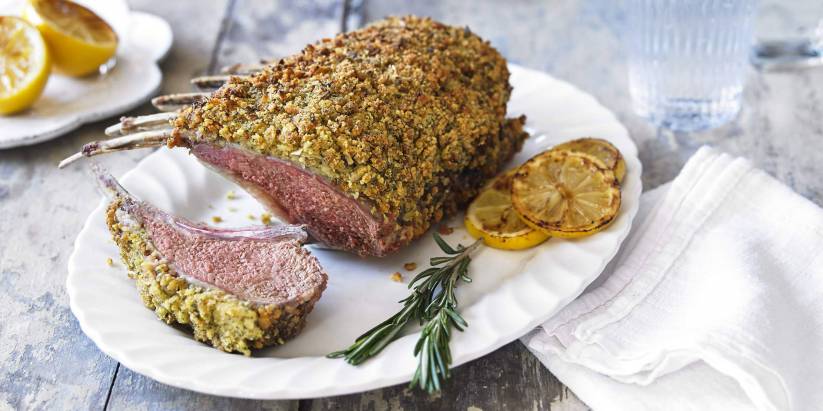 Rack or Leg of Lamb with Garlic, Parsley, Sage and Onion Crust
Certainly one to impress your neighbours. Set this on your dining table and I guarantee the net curtains will be twitching in no time.
| | |
| --- | --- |
| Serves: | 4 |
| Preparation time: | 1 hour 30mins (approx) |
Method
Baking Instructions:
Preheat the oven to 190°C / 170°C (fan) / Gas Mark 5. Weigh the lamb and calculate the cooking time (30 minutes for per 450g, plus an extra 30 minutes for nicely pink lamb).
Pop the stuffing mix in a large bowl, then add the boiling water and garlic purée. Let it cool for a few minutes.
Get yourself an oven-proof dish or roasting tray and pop the lamb skin-side down, opening it up nicely as you go. Take your stuffing mix and press it down gently over the surface of the lamb.
Cover loosely with foil (make a little dome so it doesn't touch the crust)
Roast for the calculated time.
Remove the foil for the last 30 minutes, until the crust is golden brown and the lamb is piping hot and cooked.
Serve with mashed potatoes, veg, mint sauce and redcurrant jelly for a spread worthy of your Sunday table.
Be aware, petal, that your oven temperatures and cooking times may vary a bit from mine, so these instructions are just a guide.