HELLO, I'M MRS CRIMBLE…
And the way I see it, chuck, nothing should come between a person and a bakewell slice. Which is why, since 1979, I've been whipping up cakes, bakes and nibbles that are gluten free and all the better for it.
But enough about me. Let me introduce you to some of my family and friends. Click on their heads (they won't mind) and I'll give you the goss, snugglemuffin.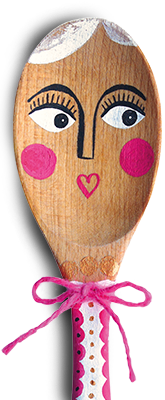 This is Geoffrey, the current Mr Crimble. It used to be a case of "I'll wash and you dry" but these days we almost always bath separately.
This is my daughter, Lauryn, who's recently gone all 'knit your own yogurt'. Dropped her off at her Hug a Tree march and it was as if they'd never laid eyes on a Mazda MX-5.
This is Steve, my trainer at boxercise. Says I've got "pent-up aggression" and that ideally I'd wear the boxing gloves provided. Bit of a fun sponge, our Steve.
And this here's my friend Tina, who the other day offered me tea without cake, which is a form of savagery when you think about it.