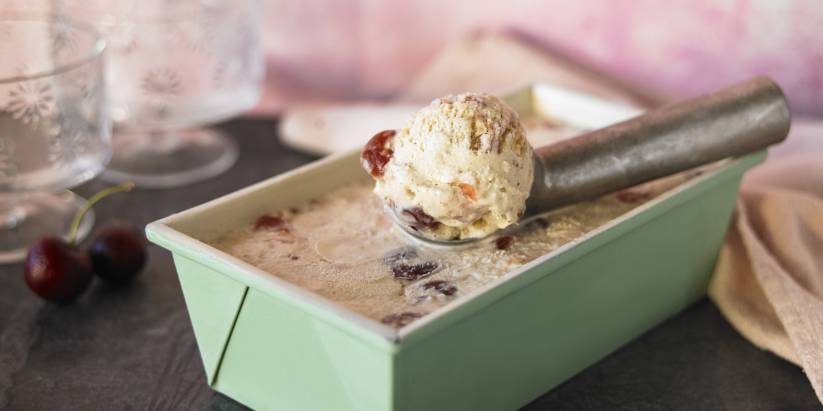 Almond & cherry bakewell ice cream
Tastes really quite like you'd expect, poppet. And that would be utterly spectacular, of course. But don't just take my word for it – have a go yourself.
| | |
| --- | --- |
| Serves: | 4-6 |
| Preparation time: | 10 minutes, plus freezing time |
Method
Pour the custard and double cream into a bowl, then fold in the icing sugar crumbled Bakewell and cherries. You can leave it as it is, or quickly blitz it with a hand blender if you prefer a smoother texture.
If you have an ice cream machine, follow the maker's instructions. Otherwise, pop the mixture into shallow, freezer-proof container, cover and freeze. After about an hour, give it all a good mix with a fork or whisk (this helps break up any crystals in the ice cream) and freeze again. Keep doing this every half hour or so until it's completely frozen.
When you're ready to serve, let it sit for 5 minutes at room temperature to soften. You might like to follow my lead and pop a cherry on top of each scoop for decoration, but don't feel obliged, dear.
Take my instructions as a guide, duck, and express your culinary creativity.