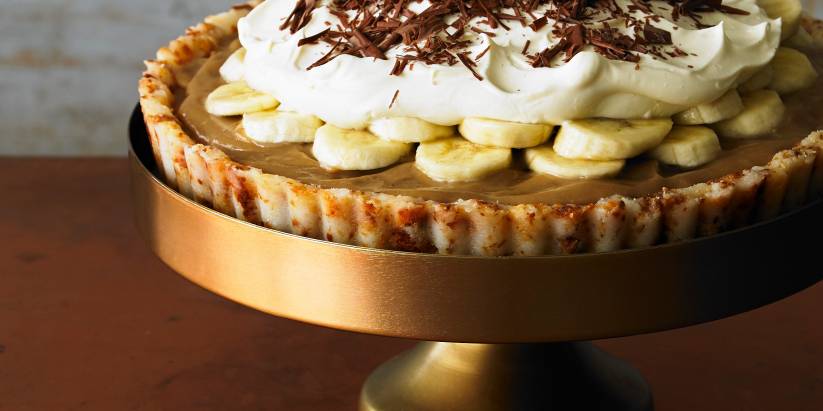 BANOFFEE PUDDING
This recipe's just perfect for wedding anniversaries, unveiling ceremonies (e.g. new lawn mower), or as a innocent gift for a completely and utterly platonic friend like nice muscly Steve from the boxercise.
| | |
| --- | --- |
| Serves: | 10 |
| Preparation time: | 30 mins (plus time to chill and set) |
Method
For the base
Melt the butter. Tear the macaroons into small pieces. Add the macaroon bits to the melted butter and stir.
Tip the buttery macaroons into the tin and press firmly into the base with back of a fork. Place in the fridge to cool while you make the filling.
For the filling
Tip the sugar and butter into a heavy-based saucepan. Stir over a medium heat until the butter melts and the sugar dissolves.
Add the condensed milk, stirring continuously until the sauce begins to boil.  Simmer for about 3 minutes, stirring continuously until the mix turns a deep, creamy brown colour. Remove from the heat and allow to cool.
Pour the caramel sauce over the macaroon base and leave to cool for at least 2 hours or ideally overnight.
For the topping
Slice the bananas into a bowl and stir in the lemon juice to prevent them browning.
Drain the bananas of excess lemon juice and sprinkle half the bananas over the toffee filling
Before serving, whisk the double cream into soft peaks and add the other half of the sliced bananas to the cream mix. Add the lot to the top of the toffee filling.
Sprinkle with the toffee chunks and grated plain chocolate.
Now, I won't be demure about this, pickle. My banoffee pud isn't some poor gluten-free cousin of the original. It beats it. It's the coconut macaroons – they add a whole extra dimension. Oh, and if you're time poor you can use a ready-made Dulce de Leche or Carnation Caramel for the filling. I'll keep mum.
These instructions are just a guide, sweetcheeks.