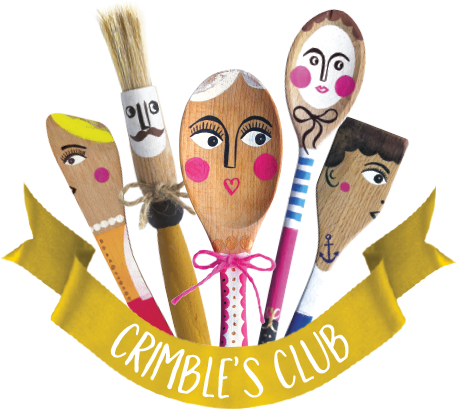 FANCY WINNING SOME NICE PRIZES AND WHAT-NOT?
Then how about joining my club? Yes poppet, a club. No, not one of those packed lunch doo-dahs. This here's an exclusive society, don't you know, where I'll send you a spot of news and my latest giveaways. Which is much better than an orange biscuit, when you come to think of it.
This month I'm giving away... £1,000 TO SPEND AT CHAMPNEYS HEALTH SPAS
Now, being that our Geoffrey hasn't given me anything close to a massage since John Major was Prime Minister, I really am in the pink about this month's giveaway. Yes, you could win £1,000 voucher to spend at any of Champneys health spas, resorts and hotels. And it's not just about being rhythmically kneaded by a highly qualified professional. You can choose to spend the money on whatever takes your fancy: facials, treatments, therapies – or even a proper spa break with a bit of whatever tickles your pickle. My Geoffrey thinks that sounds rude. Mind out of the gutter Geoffrey Crimble!
At Champneys, wellness is a way of life. They're driven by the simple belief that lasting beauty is more than just skin deep, poppet. It's all about the nourishment of the mind, body and soul – a bit like my Cranberry Macaroons really. With their health spas, resorts and hotels, their mission is to create moments of calm. It's what they do best, chuck.

Terms & conditions
1. We know that there are Mrs Crimble's and Champney's lovers all around the world, but this promotion is only open to residents of mainland UK. So that we are completely fair, anyone professionally connected to Mrs Crimble's or Kallo Foods are not allowed to enter.
2. You don't have to buy anything to take part in this promotion but you do need access to the internet.
3. Promotional Period: You can enter this promotion between 00:00 BST on 9th September 2019 and 23.59 BST on 31st January 2020.
4. To Enter: Entering this promotion is simple, just go to www.mrscrimbles.co.uk/win and complete the entry form with your first name, surname, email address and post code to be entered into the prize draw.
5. Sorry, but you may only enter once during the Promotion Period. If you do happen to enter multiple times, we'll only count your first entry but any others will be ignored.
6. The Prize:
5 winners will win x1 Champney's voucher worth £1000.
7. Winner Selection: So that you know we've selected our winners fairly from all valid entries we receive, the random draw will be carried out by PromoVeritas – the independent promotional verification service and will take place within 10 working days of the end of the Promotion Period. A total of 4 winners will be selected.
8. Winner Notification: If you are a winner you will be contacted at the email address provided upon entry within three working days of the prize draw and you must respond within 14 days. We're sorry but if you do not respond within 14 days, we reserve the right to disqualify you as a winner. If a winner is disqualified, we reserve the right to award the prize to a reserve selected in the same manner.
9. If you are our lucky winner, we'll try and send you your prize as soon as we can – and within no more than 28 days from acceptance of the prize.
10. We're sorry but you can't transfer a prize to someone else or exchange it for a cash alternative.
11. If, for reasons we can't control, the prize is no longer available, we'll offer you an alternative prize which we hope you'll still love but which will definitely be of equal or greater value.
12. We believe in fair play. Bulk entries made from trade, consumer groups, syndicates or third parties will not be accepted and we will not accept cheating in any form including the use of macros or other automated means of entry, masking your identity by manipulating IP addresses, using identities other than your own and any other behaviour that falls outside the spirit of the promotion. If you're found to be cheating you will be excluded.
13. Unfortunately, if you suffer any loss or damage that arises out of or in connection with the prize draw or prize itself (whether in contract, tort (including (without limitation) negligence), statutory duty or otherwise) we won't be liable for this.
14. If this promotion can't run properly because of fraud, tampering, technical errors or anything else that is beyond our control which affects the running, administration, security or fairness of this promotion, we reserve the right to disqualify any person involved. We will also have the right to cancel, modify or suspend the promotion.
15. By entering you confirm that you have read and agree to these terms and conditions.
16. If someone or something tampers with this promotion in some way whether by fraud, technical failures, system errors or other issues, including any such failure which is within the control of Mrs Crimble's or its agencies, Mrs Crimble's and its agencies will not be responsible if the Promotion or the prize event not being capable of running as planned or for the non-inclusion of entries. Proof of submission of entry is not proof of receipt of entry.
17. In the event of any dispute our decision is final.
18. We care a lot about the security of your personal data and it will be held in accordance with our Privacy Policy here: https://www.mrscrimbles.com/privacy-policy/ and will only be used for the purposes of this promotion save where you have opted to receive communications from Mrs Crimble's.
19. If you want to know who won you can send an email to info@mrscrimbles.com quoting "Mrs Crimble's Monthly Newsletter PD WL" in the subject line for two months after the close of the Promotion Period.
20. These Terms and Conditions are governed by English law and shall be subject to the exclusive jurisdiction of the courts of England and Wales.
Promoter: Mrs Crimble's, c/o Kallo Foods, 2 Meadows Business Pk/Station Approach, Camberley, GU17 9AB